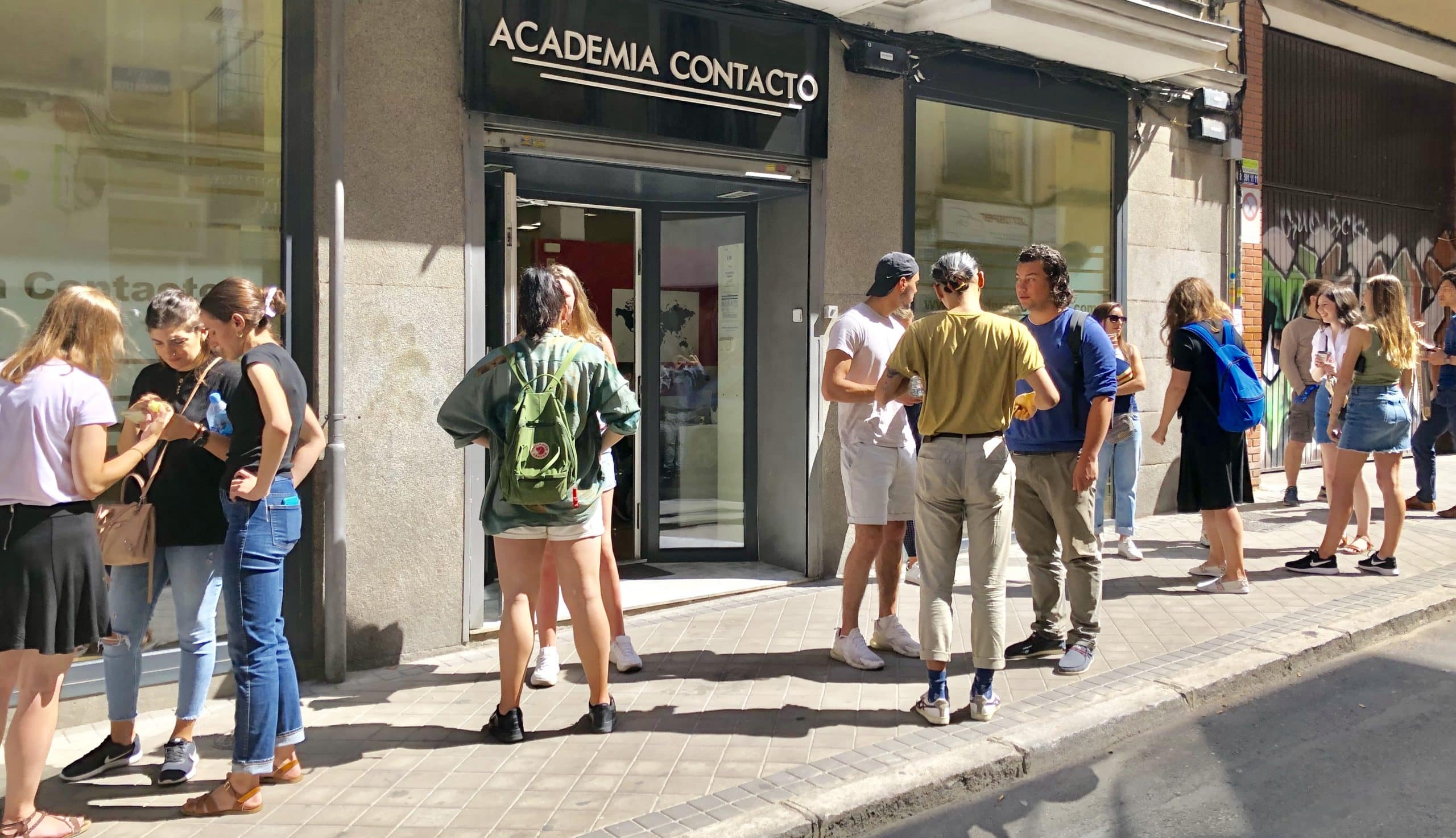 If you can take some weeks off your daily routine in your country and book a flight to Madrid, we recommend you take an Intensive Summer Spanish course in our Academia Contacto.
what you will also enjoy doing in our intensive summer Spanish course
Do you want to know our 8 top reasons to come to Madrid in the summer?
- During the summer in Madrid, the city becomes a hot spot for music festivals. From Reggaeton Festivals to the famous Mad Cool Festival, there is a music festival for every genre.
- The sun in Madrid is incredible. Don't forget to bring your sunscreen and a hat! The city experiences very little rainfall, so chances are you'll have blue skies during your summer visit to Madrid. In-between your Spanish classes, you can delight yourself with an ice-cream before entering again after the break.
- You will find less crowds in touristic places than during springtime or Christmas.
- Time for terraces bars with spectacular views (perfect plan to do with your new friends and classmates!) Apart from learning Spanish inside the classroom, with our weekly activities and excursions you'll meet people, learn, practice and have fun.
- Madrid is home to some world-renowned museums (Reina Sofía, El Prado, Thyssen-Bornemisza…), and the good news is that they are indoors! And air conditioned! so you'll have the perfect excuse to dive into the most iconic Spanish masterpieces while you avoid the peak hours of heat in the afternoon. You'll want to take about that in your Conversation classes after your Intensive Spanish Course.
- Tinto de Verano everywhere. This beverage literally means red summer wine, and it's made by mixing equal parts red table wine and carbonated lemonade over ice. You will find it in every terraza.
- Rooftop terraces: sit on a terrace at dusk with your classmates and enjoy the breeze while savouring something typical, overlooking Gran Via lights (did you know some people call it "the Spanish Broadway St"?)
- The popular August festivities (traditional parties): three of Madrid's most popular and traditional parties are celebrated consecutively and in adjacent neighbourhoods. First, San Cayetano in the Rastro/Embajadores district, then San Lorenzo in Lavapiés and, finally, Our Lady of Paloma in La Latina.
Once your Intensive Summer Spanish course class is over, we recommend you gather your belongings and go straight to the Retiro Park to review the highlights of the day sitting comfortably on the grass. Another plan next to the school is to walk along Fuencarral street to check out the latest summer trends or what about going swimming?