Duration of the courses: as many weeks as you wish
Number of participants: 3 to 10 per group
1 lesson = 50 minutes
Levels: A1- C1  
Conversation 10
65€ per week
This course takes place from Monday to Friday. It contains 2 daily lessons of 50 minutes, 10 lessons per week. We offer the Conversation 10 course, for all levels, the whole year.
Intensive 15
105€ per week
We offer the intensive 15 course from Monday to Friday. It contains 3 lessons of 50 minutes per day, 15 hours per week. The intensive 15 course is for all levels and takes place the whole year.
Intensive 25
135€ per week
We offer the intensive 25 course from Monday to Friday. It contains 5 lessons of 50 minutes per day, 25 hours per week. The intensive 25 course is for all levels and takes place the whole year.
Intensive 25 + 5
225€ per week
It is our intensive 25 course (25 hours per week) combined with one extra lesson one-to-one daily.
Intensive 25 + 10
315€ per week
It is our intensive 25 course (25 hours per week) combined with two extra lessons one-to-one daily.
This formula prepares the student for the DELE exam (Diploma of Spanish as a Foreign Language) of the Cervantes Institute. It consists of 25 hours' course/week + 5 extra hours in a reduced group (1 to 5 students) dedicated to exam preparation. A tutor supervises these extra hours and attends to every student's specific needs. Exam fees are not included in the price.
Bildungaurlaub 25+10
195€ per week
This course of 5 daily hours in a group and 2 hours of private tuition is recognized as "Bildungsurlaub" in various federal states of Germany: Berlin, Brandenburg, Bremen, Hamburg, Mecklenburg-Hither Pomerania, Lower Saxony, Rhineland-Palatinate, Saarand and Schleswig-Holstein. In this course type the student practices grammatical concept, vocab and communicative functions, as well as oral interaction, conversation and cultural aspects from a practical point of view. During the extra hours in the school or at home the student can work individually with specific material prepared for him. The second part is supervised, but the student does not have a teacher for the whole time.
During the summer we organize a specific programme for teenagers from 13 to 17 years old in Alicante. We teach 20 hours / week in the mornings. The main objective of the Summer Camp is the complete immersion into the Spanish language and culture. They will learn the language in the classroom in the mornings and in the afternoons they will have the possibility to practice with the Spanish teenagers and monitors through a wide activity programme. Furthermore, living with a Spanish speaking family with full board accommodation will help them to practice their Spanish outside the classroom and get in close contact with the Spanish culture during their stay in Alicante. The duration of the programme is flexible.
One-to-one course
22€ per hour
This individual course is aimed at all those who want to improve their linguistic competence in a particularly effective way and in the shortest possible time. At the beginning of the course your teacher will help you to choose your programme. You can also decide how many hours a week you wish to book, or even ask to share your course with another student. Private lessons can also be taken in addition to other courses.
Group courses: Every Monday (Except absolute beginners)
 
Absolute beginners:  9/1, 13/2, 13/3, 10/4, 8/5, 5/6, 19/6, 26/6, 3/7, 10/7, 17/7, 24/7, 31/7, 7/8, 14/8, 21/8, 28/8, 11/9, 25/9, 23/10, 20/11 
Summer Camp Alicante 2017:  26/06, 3/07, 10/07, 17/07, 24/07, 31/07, 7/08, 14/08, 21/8
Individual courses: Flexible
Holidays 2017: 2/1, 20/3, 14/4, 1/5, 15/8, 12/10, 1/11, 8/12, 23/12 and Christmas holidays (from 23/12/17 to 1/1/18)
Welcome to one of Spain's main holiday destinations. A dynamic city, Alicante is a province which combines in its unique way the most traditional and the most cosmopolitan, where you will find bustling cities rubbing shoulders with small fishing villages (and their fantastic fish auctions!), cliff-bordered coasts, quiet beaches, unforgettable islands – a true contrast in the best sense.
Highlights:
Don't miss the opportunity to climb up to the Santa Barbara fortress and enjoy the most wonderful views of the city and coast.
Visit the old part of town, and discover the city´s rich cultural history.
If you like the beautiful Mediterranean beaches, Alicante will be a paradise for you. The sun, with its shiny dance on the deep blue sea, opens the door to the world of light and sand of the Costa Blanca.
Take a leisurely walk through the port and down the Explanada de España, where tall palm trees look down on a multitude of outdoor cafés.
This leads you to the port, which is also part of the "tapas and copas" area When night falls, this eastern pier turns into one of the city´s liveliest areas!
Our partner school in Alicante (Proyecto Español) is located in the heart of the city – behind the infamous Mercado Central – the school is never more than a stone's throw from every amazing attraction of this beautiful city.
Accredited by the Cervantes Institute, the school consists of twenty-three spacious, vibrant and modern classrooms, each fitted with projectors, air conditioning and heating. Other services include wireless Internet access, a lively cafeteria where we regularly organize language exchanges with Spaniards, a library, a computer room, relaxing sofas, tablets, disabled access, and dedication from everyone involved.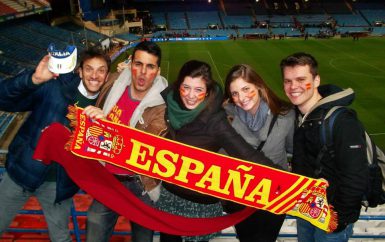 In Town
Guided walk in the heart of the city
Thematic city walks
Football
Visits to exhibitions and museums
Theatre, concert, other events
 Bars, restaurants & clubs 
Visits to local companies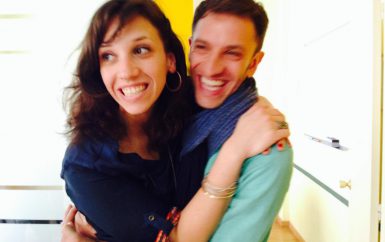 In school
Live Music
Spanish film screenings
Art exhibitions by local artists
Wine-tasting
Talks and readings on social, political or historical topics
Literature workshops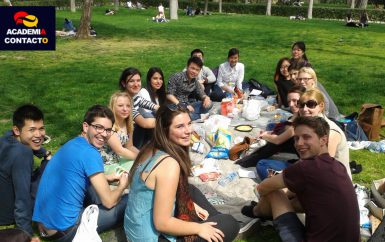 Excursions
Half-day trips
Whole day excursions (Sat. or Sun.)
Weekend excursions
Guided walks and bike tours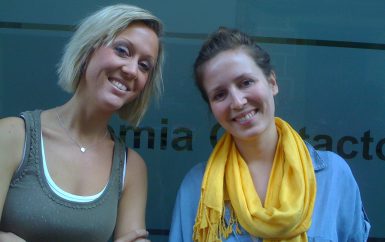 Before the course
"Pre-Contacto": you will be sent relevant information
Need help with banking, mobile phones, travel and flights?

 

Set a foot 
Airport transfer
Organization of insurance against illness and accidents
Arrangement of accommodation for accompanying persons
Possibility to enrol at short notice
Cancellation insurance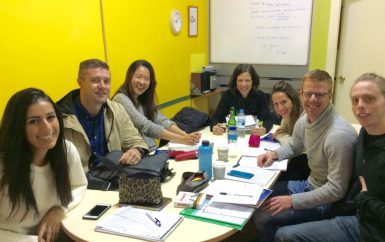 In school
Teaching materials
Library with works in four languages
Personal advice
Spanish newspapers and magazines
Use of Internet, e-mail
Student ID 
Printing for travel documents
Certificate upon completion
Easy mode of payment: credit cards are welcome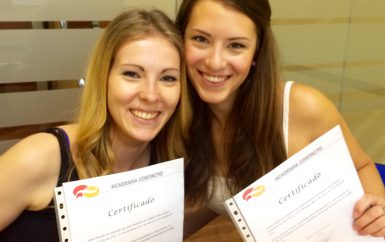 After class
Information about cultural events and ticket booking service.
Arrangement of leisure time activities for the period of the language course, e.g. sport, dance, music
Arrangement of "intercambios" – individual language exchange with native Spanish speakers
24-hour telephone emergency service