Spanish Courses in Valencia
Start Dates

2023 and 2024: Every Monday
Individual courses: Flexible
Holidays 2024:  1/1,  6/1,  22/1,  19/3,  29/3,  1/4,  8/4,  1/5,  15/8,  9/10,  12/10,  1/11,  6/12,  25/12
Valencia, the third largest city in the country, is surrounded by orchards and mountain ranges: oranges, mandarins and lemons bring colourful touches to the countryside. Large and cosmopolitan, it has a thriving economic and commercial activity centred on its important fairs and its harbour.
Highlights:
A visit to the City of Arts and Sciences is a must. Work of the Valencian architect Santiago Calatrava, this scientific and cultural leisure complex covers around two kilometres of the former riverbed of the River Turia, and several of its buildings have become icons of the city.
With a coast boasting wonderful beaches, the area around Valencia is a pearl of nature.
The old part of town reflects the city´s beauty, thanks to its numerous monuments.

The "Fallas" is Valencia's most famous and probably most spectacular festival. The 5-day festival takes place in March and the focus of the fiesta is the creation and destruction of huge cardboard, wood, paper-maché and plaster ´ninots´(puppets or dolls). A lively, loud and smoky fiesta where the town is literally set ablaze!

Many flock to Valencia just for the delicious food! Valencia can also boast about its paella. Beside this famous rice dish, there are other delicious specialties like "fideuá" , "suc de peix" (fish soup), arroz negro, all I pebre… which we can only advise you to try in the sun in Valencia´s beautiful market square.
 Academia Contacto and its team invite you to come and discover the many facets of this truly interesting city.
Our partner school in Valencia (Hispania) is located just north of the centre of the city, and is never more than a stone's throw from every amazing attraction of this beautiful city, with the historic and biggest park in the city, Los Jardins del Real o Viveros, being just around the corner. The school is also well connected, being within 200m of Benimaclet metro station (lines 3, 4 and 6), and walking distance from Facultats metro station (line 3).
Accredited by the Cervantes Institute, the school consists of sixteen spacious, vibrant and modern classrooms, each fitted with projectors, air conditioning and heating. Other services include wireless Internet access, coffee and tea facilities, a library, computers, relaxing sofas, a lounge, disabled access, and dedication from everyone involved.
There are 27 members of staff in the school, including our Spanish teachers; all of whom are native, experienced and professional.

A relaxed atmosphere in which one feels at home is key to mastering a foreign language and culture.
Spanish family
Living in one of our carefully selected host families is the best opportunity to experience the Spanish way of life. You will improve your knowledge of Spanish culture whilst making new friends! You will also be given your own set of keys, so this is a great opportunity to combine the joy of home comforts with a sense of independence. Undoubtedly one of the best and most popular ways to immerse yourself in Spanish culture through experiencing the hospitality of a Spanish family. Think of it as a relaxed oral class in a comfortable flat with the added bonus of delicious food!
All families will have internet connection and will provide bedding and towels. You can choose between living half-board or full-board: the difference being the latter includes lunch as well as breakfast and dinner. Double rooms are available for two students that come together, and accommodation in Valencia runs from Saturday to Saturday.
If you have any dietary requirements, just let us know! You can also tell us if you would prefer a family with or without children, with or without other students, non smoking…
Check out the table below for a breakdown of the accommodation prices!
Shared flat
We offer rooms in fully equipped and furnished shared flats close to the language school. We have flats where one or two Spaniards live and flats with just students. This is a great option for those looking for the opportunity to live in a multicultural environment with a variety of different people. The perfect way to make lifelong friends during your stay in Spain!
All flats will be centrally located, within walking distance of the school. All will have internet connection, and there will be no extra costs: electricity, water, internet etc. will all be included in the price. You will share the kitchen, bathroom and living room, and double rooms are available for two students that come together.
Accommodation in Valencia runs from Saturday to Saturday. If you have a preference regarding desired flatmates please let us know!
Check out the table below for a breakdown of the accommodation prices!
Prices
Option
Single room
Double room
Single room
(halfboard)
Double room
(halfboard)
Single room
(fullboard)
Double room
(full board)
Shared flat *
140 €
115 €
Shared flat **
210 €
175 €
Spanish family *
210 €
190 €
280 €
260 €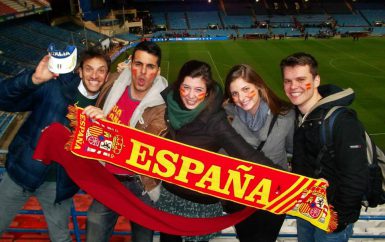 In Town
Guided walk in the heart of the city to visit the famous plaza´s, such as Plaza de la Reina, Plaza Redonda and Plaza Lope de Vega.
Tapas and drinks.
Thematic city walks and tours.
Football matches at the famous Estadio de Mestalla!
Visits to exhibitions and museums such as the City of Arts and Sciences.
Trips to the theatre, concerts, Cathedral and the Holy Grail.
Bars, restaurants & club nights with other students.
Beaches, of which the most famous are La Malvarrosa, split into sections such as Playa las Arenas and Playa Cabanyal.
Walks around the Turia park located in the centre of the city and previously the River Turia.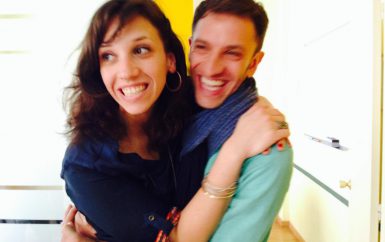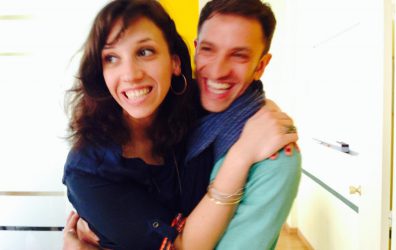 In School
Live Music shows.
Spanish film screenings.
Wine and tapas nights.
Talks and readings on social, political or historical topics on the vast history of Valencia, and its connection with the Christian and Muslim religions.
Spanish literature workshops.
Paella nights in Spain´s most famous paella city.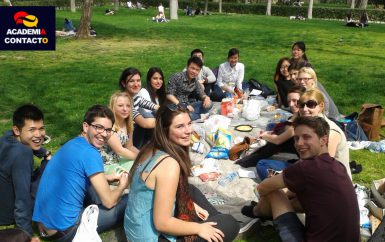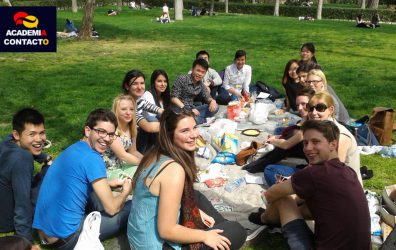 Excursions
Half-day trips to Valencia´s copious orchards and mountain ranges.
Trip to the Miguelete bell tower to admire Valencia from above.
Whole day excursions (Sat. or Sun.) to Valencia´s central market.
Weekend excursions to other parts of Spain or nearby countries.
Guided walks (hikes) and bike tours.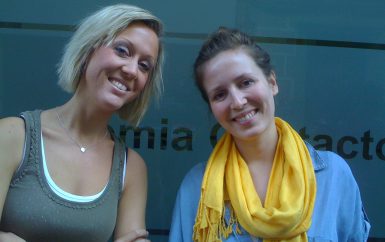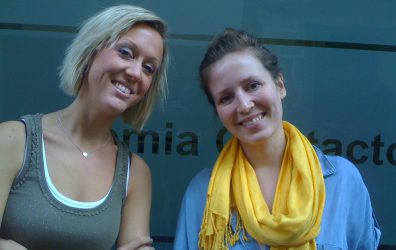 Before the Spanish course
You can easily apply online.
Transfer from the airport.
We manage your health and accident insurance.
We can help you find shared accommodation.
Possibility of making an immediate registration.
You can book the cancellation insurance if plans change.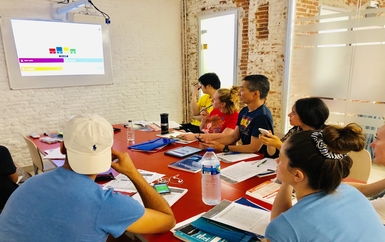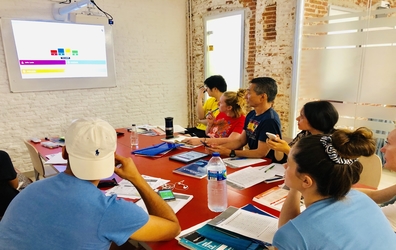 In School
Materials for the course

Library for students with books in different languages

One-to-one counselling

Daily Spanish newspapers

Internet available

Student identity card

Possibility to print your documents

Diploma end of course

Credit cards accepted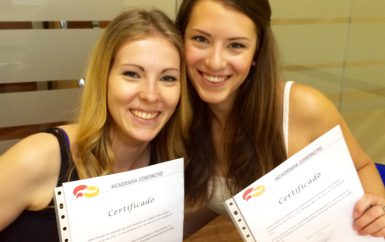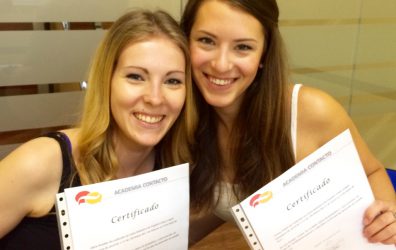 After class
Access to information on culture and leisure plans in the city.
Proposal of activities of all kinds: dance, music, visits, etc.
Conversations with native speakers in order to acquire greater fluency.
Telephone available for emergencies.