Spanish Courses in Madrid
Start Dates
Every Monday (Except for absolute beginners)
Absolute beginners 2018:  8/1,  5/2,  5/3,  2/4,  16/4,  30/4,  14/5,  4/6,  2/7,  16/7,  6/8,  3/9,  17/9,  1/10,  5/11, 3/12
Absolute beginners 2019:  8/1,  4/2,  18/2,  4/3,   1/4,   15/4,   6/5,   3/6,  17/6,  1/7,  15/7,  5/8,  19/8,  2/9,  16/9,  7/10,  21/10,  4/11,  2/12
Individual courses: Flexible
DELE 20:  6/5/19  and   4/11/19
Holidays 2018:  1/1,  30/3,  1/5,  15/5,  15/8,  12/10,  1/11,  9/11,  6/12,  25/12
Holidays 2019:  1/1,   7/1,  19/4,  1/5,  15/5,  15/8,  1/11,  6/12,  9/12,  25/12
If you are coming to take a Spanish course, you will find that Madrid is a vibrant, busy city full of bohemian energy. Throughout the city you will experience its lively and cosmopolitan atmosphere along with the charm of its past. Since its early days, people have come from all regions of Spain to settle in Madrid, thereby enriching the city with their own cultural traditions. Artists, writers and fashion designers have taken up residence in Madrid after finding here the inspiration necessary to their creative work.
There are several main barrios in Madrid – all contribute to its beauty. Malasaña is famous for its sweet hippy scene, Salamanca for being for grandiose, Argüelles for its animated university atmosphere, Sol for its monuments, Chueca for the colourful gay scene, and La Latina is one of the most charming places to relax and enjoy a drink. Madrid will captivate you from the moment you arrive.
Madrid highlights:
The most important museums of Madrid – the Prado museum, Thyssen-Bornemisza museum and Reina Sofia contemporary art museum – are to be found in the Paseo del Prado.
Puerta del Sol & Plaza Mayor. The most beautiful and important squares in Madrid, from which all roads started in the past, is where you can enjoy some tapas, drinks and enjoy the Madrid atmosphere at its best.
The wide variety of cultural venues – from concert halls and opera houses to theatres and museums of world esteem – as well as the architectural splendour of past centuries ensure that tourists from all over the world keep returning to Madrid. The plethora of sunny squares, with Mediterranean charm ensures welcome places to stroll and relax body and soul.
Madrid is world-famous for its old cafés, cosy tapas bars and restaurants brimming over with life day and night. Visit the small, traditional shops, which have preserved the atmosphere of bygone days with their nostalgic interiors!
Madrid nightlife is also world famous. It is one of the world's liveliest cities, and a city that never sleeps. The energy goes on all night, and Madrid clubs and pubs are open all year round. Madrid's nightlife has something for everybody, whatever your preferences, age or nationality.
All in all, Madrid is a diverse city for everyone and anyone. You will find yourself at home and you may never want to leave.
Opened in 2001 and accredited by the Cervantes Institute, the school is our eldest and dearest. We've used the experience gained to constantly improve and provide the best service.
Located in the heart of Madrid – on a quiet street in the charming borough of Chamberí – the Spanish school is never more than a stone's throw from every amazing attraction of this beautiful city. Within walking distance from several main Metro stations (on lines 1, 2, 4, 5, 7 and 10), less than twenty minutes walk from Puerta del Sol, and with the most delightful typically Spanish square in Plaza de Olavide around the corner, the school´s location cannot be understated.
The school of your Spanish course consists of seven spacious, vibrant and modern classrooms, each fitted with air conditioning and heating. At full capacity we host 55 students, which ensures that one´s personal development is maximised while also creating a friendly, family-like aura. Other services include wireless Internet access, coffee and tea facilities, a library, relaxing sofas, tablets, and dedication from everyone involved.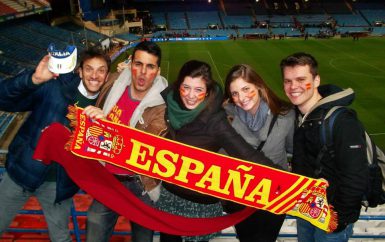 In Town
Guided walk in the heart of the city
Thematic city walks
Football
Visits to exhibitions and museums
Theatre, concert, other events
 Bars, restaurants & clubs 
Visits to local companies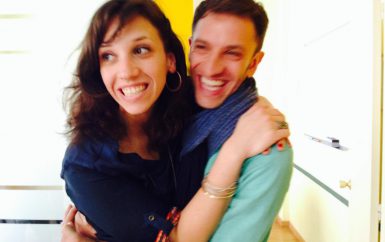 In school
Live Music
Spanish film screenings
Art exhibitions by local artists
Wine-tasting
Talks and readings on social, political or historical topics
Literature workshops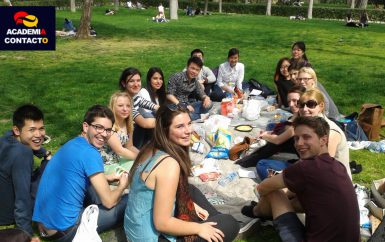 Excursions
Half-day trips
Whole day excursions (Sat. or Sun.)
Weekend excursions
Guided walks and bike tours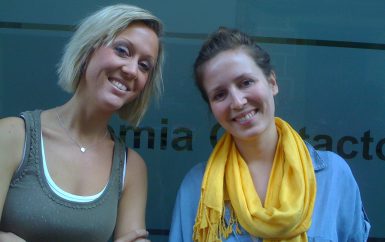 Before the Spanish course
"Pre-Contacto": you will be sent relevant information
Need help with banking, mobile phones, travel and flights?
Airport transfer
Organization of insurance against illness and accidents
Arrangement of accommodation for accompanying persons
Possibility to enrol at short notice
Cancellation insurance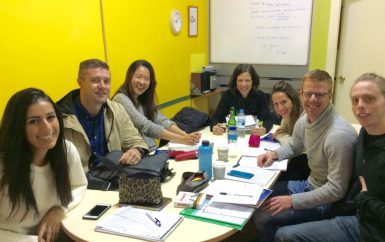 In school
Teaching materials
Library with works in four languages
Personal advice
Spanish newspapers and magazines
Use of Internet, e-mail
Student ID 
Printing for travel documents
Certificate upon completion
Easy mode of payment: credit cards are welcome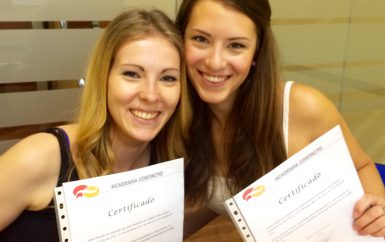 After class
Information about cultural events and ticket booking service.
Arrangement of leisure time activities for the period of the language course, e.g. sport, dance, music
Arrangement of "intercambios" – individual language exchange with native Spanish speakers
24-hour telephone emergency service