Spanish Courses in Sevilla
Start dates
Every Monday (except absolute beginners)

Absolute beginners 2019: 8/1, 4/2, 4/3, 1/4, 29/4, 3/6, 1/7, 5/8, 2/9, 30/9, 28/10, 25/11
One-One : Flexible

National Holidays 2019:   7/1, 28/2, 18/4, 19/4, 1/5, 8/5, 20/6, 15/8, 1/11, 6/12, 9/12   The school will close from 23/12/2019 to 7/1/2020

Seville, the capital of Andalusia, is one of Spain´s most dream-like cities. Its ancient architecture, vibrant colours and deep cultural heritage will charm you and transform your stay into an unforgettable experience.
Highlights:
Visit the gothic cathedral with its "Giralda" (spire) its innumerable churches, the Alcázar and its gardens, Pilatos' house, and the Maestranza.
Culture in every corner. The architecture and atmosphere of the city embodies its diverse heritage, and from the flamenco to its "corridas" Sevilla has known how to preserve the richness of its traditions.
Take a walk through the quaint quarter of Santa Cruz and the wonderful tropical park of María Luisa.
Go for a drink in La Carbonería, and experience authentic flamenco and sevillanas.

At the weekend, join all the young people in one of the many typically Spanish squares or on the verges of the river Guadalquivir, enjoy a "botellón" and chat until the night comes, before moving on to the numerous bars and discos of the city.
If you feel like discovering true Andalusia with its culture and its way of life, come to Academia Contacto . join us for an experience you will never forget!
Our partner school in Seville (Giralda Center), the capital of the beautiful Andalusia, is located in one of the best-known avenues in the centre of the city. Its privileged locations means it is at a stone's throw from the Royal Alcazar gardens, the Santa Cruz quarter, The Cathedral and Giralda, and the historic University of Seville. As well as being surrounded by the beautiful Murillo Gardens, the school is also well connected, being within walking distance from the Prado San Sebastián metro station (line 1), several bus stops (05, 22, 29, 52, A4, A7, B4, C1, C2, EA), as well as having taxis and bikes on our doorstep. Given our prime location, many envy us…
Accredited by the Cervantes Institute, the school consists of eighteen spacious, vibrant and modern classrooms, each fitted with interactive technology, air conditioning and heating. Other services include wireless Internet access, coffee and tea facilities, a library, computers, spacious study areas, an open-air roof terrace, disabled access, and dedication from everyone involved.
There are 27 members of staff in the school including our teachers, who are experienced, native, and professional.

A relaxed atmosphere in which one feels at home is key to mastering a foreign language and culture.
Spanish family
Living in one of our carefully selected host families is the best opportunity to experience the Spanish way of life. You will improve your knowledge of Spanish culture whilst making new friends! You will also be given your own set of keys, so this is a great opportunity to combine the joy of home comforts with a sense of independence. Undoubtedly one of the best and most popular ways to immerse yourself in Spanish culture through experiencing the hospitality of a Spanish family. Think of it as a relaxed oral class in a comfortable flat with the added bonus of delicious food!
All families will have internet connection and will provide bedding and towels. You can choose between living half-board or full-board: the difference being the latter includes lunch as well as breakfast and dinner. Double rooms are available for two students that come together, and accommodation in Sevilla runs from Saturday to Saturday.
If you have any dietary requirements, just let us know! You can also tell us if you would prefer a family with or without children, with or without other students, non smoking…
Check out the table below for a breakdown of the accommodation prices!
Shared flat
We offer rooms in fully equipped and furnished shared flats close to the language school. We have flats where one or two Spaniards live and flats with just students. This is a great option for those looking for the opportunity to live in a multicultural environment with a variety of different people. The perfect way to make lifelong friends during your stay in Spain!
All flats will be centrally located, within walking distance of the school. All will have internet connection, and there will be no extra costs: electricity, water, internet etc. will all be included in the price. You will share the kitchen, bathroom and living room, and double rooms are available for two students that come together.
We offer two options for single rooms that vary on ¨comfort¨ and price to accommodate everyone´s financial needs. Accommodation in Sevilla runs from Saturday to Saturday. If you have a preference regarding desired flatmates please let us know!
Check out the table below for a breakdown of the accommodation prices!
Prices
Option
Single room
Double room
Single room
(halfboard)
Double room
(halfboard)
Single room
(fullboard)
Double room
(full board)
Shared flat *
110 €
85 €
Shared flat **
160 €
Spanish family *
160 €
145 €
200 €
185 €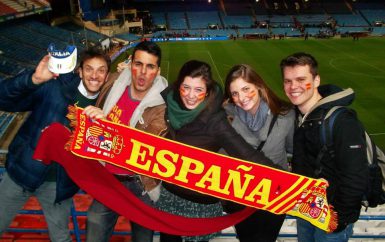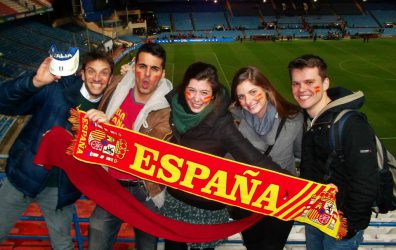 In Town
Guided walk in the heart of the city.
Thematic city walks and tours of San Bernardo, Arenal areas, Alcazar, the Cathedral and the Giralda Tower.
Football matches at the Estadio Ramon Sanchez-Pizjuan.
Visits to exhibitions and museums e.g. Fine Arts museum.
Visits to the famous Royal Palace of the Alcazar and its magnificent gardens.
Trips to the theatre, concerts, other events.
Bars, restaurants, club nights and flamenco shows with other students in La Carboneria.
Visits to local companies.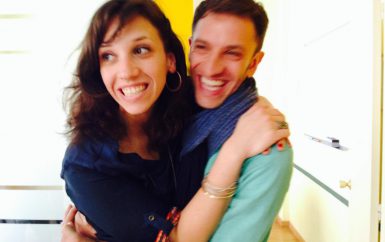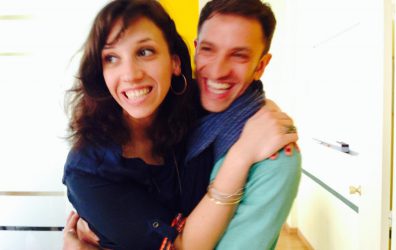 In school
Live Music and flamenco shows.
Spanish film screenings.
Wine and tapas nights.
Talks and readings on social, political or historical topics.
Spanish literature and grammar workshops.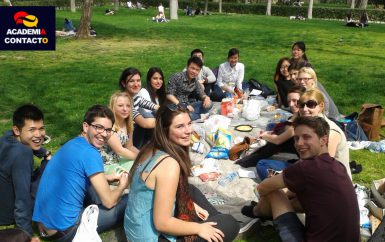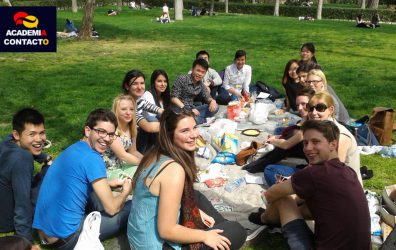 Excursions
Half-day trips to Plaza de España and Parque de María Luisa.
Whole day excursions (Sat. or Sun.).
Weekend excursions to other parts of Spain or nearby countries.
Guided walks (hikes) and bike tours of Seville and Carmona.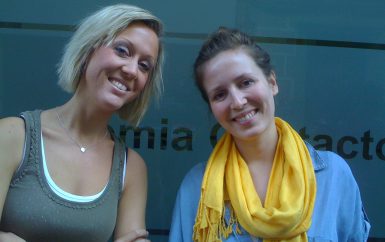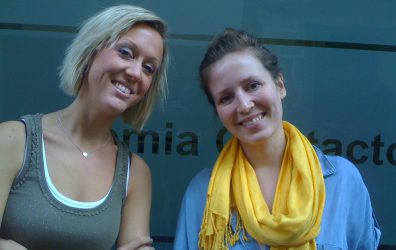 Before the Spanish course
Send your information to us to make a reservation.
We can pick you up from the airport.
The management of your health insurance in case of an accident is possible.
We can find you roommates.
Possibility of making a last-minute reservation.
Cancellation insurance for your peace of mind.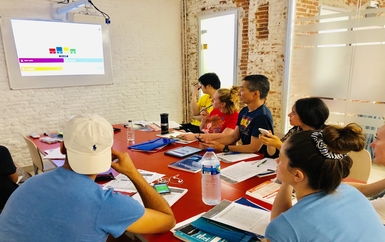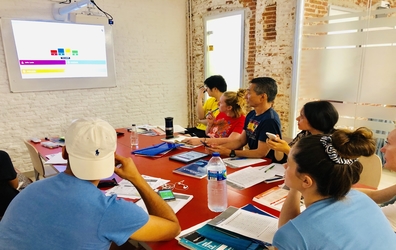 In school
Course materials.
Possibility to pick up books in several languages.
Individual recommendations.
Spanish daily press.
Internet in the academy.
Student identification card.
Travel paper printer.
Degree course.
Facilities to pay by credit card.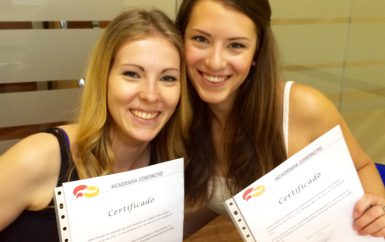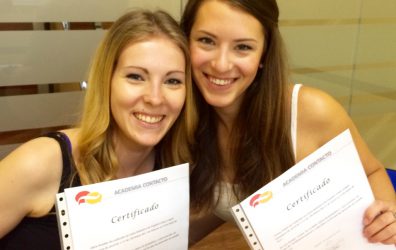 After class
Information on events of cultural interest.
Organization of activities for all tastes every week.
Exchange of conversations with other Spaniards.
24 hour pone.