Spanish Courses in Sevilla
Duration of the courses: as many weeks as you wish
Number of participants: 3 to 10 per group
1 lesson = 55 minutes
Levels: A1- C1
Spanish course: Intensive 20
140€ per week
This Spanish course is held from Monday to Friday. It contains 4 lessons of 55 minutes per day, 20 hours per week. The intensive course is for all levels and takes place the whole year. 10% discount for enrolments for at least 12 weeks
Intensive 24
210€ per week
Additionally to the intensive 20 course, you can take four extra hours per week focusing on communication and the students' special needs. The extra hour is organized into small groups of 1 to 4 students. Classes available all year round for all levels. 10% discount for enrolments for at least 12 weeks
Intensive 20 + 4
260€ per week
Additionally to the intensive 20 course, you can take four extra hour one-to-one tuition per week. 10% discount for enrolments for at least 12 weeks
Intensive 20 + 8
370€ per week
Additionally to the intensive 20 course, you can take eight extra hours one-to-one tuition per week. 10% discount for enrolments for at least 12 weeks
One-to-one course
from 29€ to 32€ per hour
This individual course is aimed at all those who want to improve their linguistic competence in a particularly effective way and in the shortest possible time. At the beginning of the course your teacher will help you to choose your programme. You can also decide how many hours a week you wish to book, or even ask to share your course with another student. Private lessons can also be taken in addition to other courses.
Start dates
Every Monday (except absolute beginners)
Absolute beginners 2018: 8/1, 5/2, 5/3, 2/4, 7/5, 4/6, 2/7, 6/8, 3/9, 1/10, 29/11, 26/12
Absolute beginners 2019: 8/1, 4/2, 4/3, 1/4, 29/4, 3/6, 1/7, 5/8, 2/9, 30/9, 28/10, 25/11
One-One : Flexible
National Holidays 2018:   1/1, 28/2, 29/3, 30/3, 1/5, 31/5, 15/8, 12/10, 1/11, 6/12          The school will close from 24/12/2018 to 7/1/2019
National Holidays 2019:   7/1, 28/2, 18/4, 19/4, 1/5, 8/5, 20/6, 15/8, 1/11, 6/12, 9/12   The school will close from 23/12/2019 to 7/1/2020

Seville, the capital of Andalusia, is one of Spain´s most dream-like cities. Its ancient architecture, vibrant colours and deep cultural heritage will charm you and transform your stay into an unforgettable experience.
Highlights:
Visit the gothic cathedral with its "Giralda" (spire) its innumerable churches, the Alcázar and its gardens, Pilatos' house, and the Maestranza.
Culture in every corner. The architecture and atmosphere of the city embodies its diverse heritage, and from the flamenco to its "corridas" Sevilla has known how to preserve the richness of its traditions.
Take a walk through the quaint quarter of Santa Cruz and the wonderful tropical park of María Luisa.
Go for a drink in La Carbonería, and experience authentic flamenco and sevillanas.

At the weekend, join all the young people in one of the many typically Spanish squares or on the verges of the river Guadalquivir, enjoy a "botellón" and chat until the night comes, before moving on to the numerous bars and discos of the city.
If you feel like discovering true Andalusia with its culture and its way of life, come to Academia Contacto . join us for an experience you will never forget!
Our partner school in Seville (Giralda Center), the capital of the beautiful Andalusia, is located in one of the best-known avenues in the centre of the city. Its privileged locations means it is at a stone's throw from the Royal Alcazar gardens, the Santa Cruz quarter, The Cathedral and Giralda, and the historic University of Seville. As well as being surrounded by the beautiful Murillo Gardens, the school is also well connected, being within walking distance from the Prado San Sebastián metro station (line 1), several bus stops (05, 22, 29, 52, A4, A7, B4, C1, C2, EA), as well as having taxis and bikes on our doorstep. Given our prime location, many envy us…
Accredited by the Cervantes Institute, the school consists of eighteen spacious, vibrant and modern classrooms, each fitted with interactive technology, air conditioning and heating. Other services include wireless Internet access, coffee and tea facilities, a library, computers, spacious study areas, an open-air roof terrace, disabled access, and dedication from everyone involved.
There are 27 members of staff in the school including our teachers, who are experienced, native, and professional.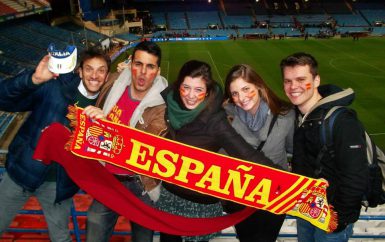 In Town
Guided walk in the heart of the city
Thematic city walks
Football
Visits to exhibitions and museums
Theatre, concert, other events
 Bars, restaurants & clubs 
Visits to local companies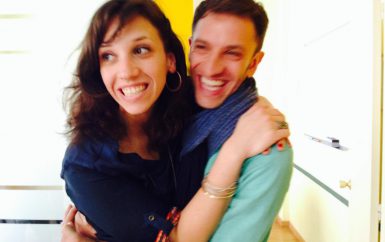 In school
Live Music
Spanish film screenings
Art exhibitions by local artists
Wine-tasting
Talks and readings on social, political or historical topics
Literature workshops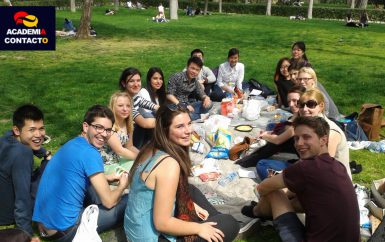 Excursions
Half-day trips
Whole day excursions (Sat. or Sun.)
Weekend excursions
Guided walks and bike tours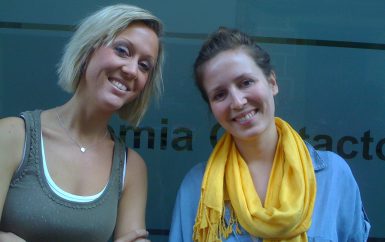 Before the Spanish course
"Pre-Contacto": you will be sent relevant information
Need help with banking, mobile phones, travel and flights?
Airport transfer
Organization of insurance against illness and accidents
Arrangement of accommodation for accompanying persons
Possibility to enrol at short notice
Cancellation insurance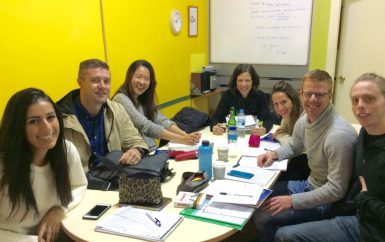 In school
Teaching materials
Library with works in four languages
Personal advice
Spanish newspapers and magazines
Use of Internet, e-mail
Student ID 
Printing for travel documents
Certificate upon completion
Easy mode of payment: credit cards are welcome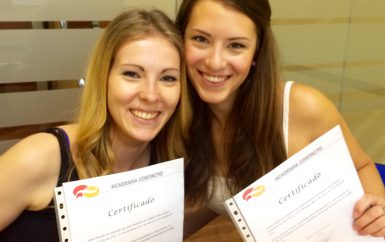 After class
Information about cultural events and ticket booking service.
Arrangement of leisure time activities for the period of the language course, e.g. sport, dance, music
Arrangement of "intercambios" – individual language exchange with native Spanish speakers
24-hour telephone emergency service